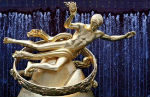 The Prometheus Awards recognize those exceptional individuals who by their personal example and their inventive enterprises enrich the human community and shed light into our world.
Right now Prometheus publishing is conducting a call for Nominations – so if you know an
individual – an idealist who is putting his or her creative sweat and energy into a project that is enriching some corner of the human community, for-profit or non-profit we invite you to share their rays of hope and nominate them as candidate for a Prometheus Award.
You may  nominate a candidate by visiting https://bartsbooks.com/businessess-best/ and complete the short nomination form.  Or you may email info@bartsbooks.com sending your name and contact info, the candidate's name and a brief description of their accomplishments.
For further details on the Awards ceremony,  what honorees receive etc. or to – or to nominate a candidate – we invite you to write to Info@bartsbooks.com
Prometheus was the ancient Greek Titan who defied the gods and brought to humankind the gift of fire.  From that light onward, there was no going back.