Let's Get Down to  The Best of Business
"In all my years as a journalistic scribbler, I have discovered two things that keep drawing me back to business:
Business folks are fascinating.
Like explorers, entrepreneurs are half dreamer, half doer, and are forever running off on a scary adventure.
Business is the way we humans get things done.
It's the way we decide what to do and what's important.  It is business that spans the globe with connective highways and  transforms the Internet from geek theory into a contributing tool."
  – Bart Jackson
PROMETHEUS AWARDS
Prometheus was the Greek Titan who defied the gods humankind the gift of fire.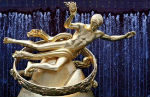 We began Prometheus Publishing and all its spiraling ventures in the hope of helping ladies and gentlemen of business get a little better at providing the services that enrich us all.
As part of that goal, it has become our responsibility and delight to recognize those remarkable individuals who inspire and benefit to us all –
Do you know a modern day Prometheus whose personal example and creative venture is shedding a greater light into our community and the world?
Please help us like to learn about and honor this person with your nomination:
We thank you for your nomination and we will update you promptly when we have accepted it.
Please enter your contact details and a short message below, and we will respond promptly.