The good that people do must not die with them, nor should it languish unnoticed – it is too precious a commodity.  – Bart Jackson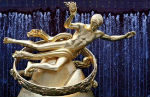 PROMETHEUS AWARDS
Prometheus was the Greek Titan who defied the gods and brought to humankind the gift of fire.  From that light onward, there was no going back. 
The Prometheus Awards recognize those exceptional individuals who by their personal example and their inventive enterprises enrich the human community and shed light into our world.
Candidates
* Currently Prometheus Awards has put out a call for entries. Nominations are open to all individuals, worldwide.
* The modern day Promethean is, above all, a contributor. He responds to human need with compassionate action.  She envisions improvement, and with an entrepreneurial spirit, initiates an enterprise that brings it about.
* Selected candidates will be honored at our annual awards ceremony, appear as guests on a series of media outlets, and will be profiled in the Torchbearers Yearbook.
Do you know an unsung, modern-day Prometheus who is putting his or her creative sweat and energy behind a beneficial undertaking?
Please help us learn about and honor this person by completing our form including your nominee's name, contact information, and a very brief description of their enterprise.
Sponsors & Ambassadors
Limited sponsorship opportunities and Ambassador positions on the selection committee are available for individuals who are aligned with Prometheus Awards' goals.  For inquiries and further details please use the form below.
We thank you for your nomination and we will update you promptly when we have accepted it.
The Awards Ceremony and Dinner will be held on Thursday, September 19th at the  Hennessey Mansion at Fairleigh Dickenson University's Madison campus, with the Rothman Institute for Innovation & Entrepreneurism.  Contact info@bartsbooks.com for reservations.
Please enter your contact details and a short message below, and we will respond promptly.