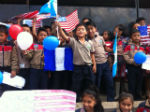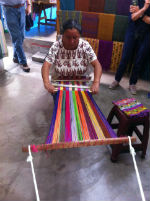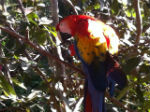 Hope happiness and song rise from the students of the CETNA School, Parramos Guatemala. Lorraine and I joined our Nassau Presbyterian Church mission team to visit the school to which we've been contributing – where students and faculty exuberantly welcomed us with a parade of home made flags and dances.   While outside these walls lies a reality of harsh relentless labor and subsistence economics, within springs an oasis of joy and aspiration.  We painted the building & repaired with the parents; worked and played with the students, while our three doctors set up a clinic.  The takeaway: delight in each day and happiness of spirit do not require a land of plenty.
Antigua Guatemala.  Mauela planted, grew, and picked the cotton, spun it into theads, grew and harvested the herbal dyes, colored each of the bright strands you see, then on her backstrap loom she weaves a magnificent and highly artistic cloth.  Imagine the pride. Her products are sold at the local women's cooperative which we visited on our Nassau Church mission trip to the CETNA school with whom we partner.  Are our own lives to
Lorraine's camera takes a bead on a shy parrot in the forest surrounding the Fuego Volcano, while Bart runs off to swim in the nearby lake.