When: Friday, Feb. 15 – 9:45 a.m. – 12 p.m.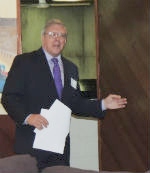 Where: The Princeton Public Library, 65 Witherspoon St., Princeton NJ 08542
In truth, most folks hit what they aim at.  How do you lift your head out of that narrow rut that defines your career as a series of jobs and list of skills? What practical tactics will rip off the blinders, reveal opportunities, and set your precious energies on the road to fulfillment – and fun?  With great good humor, we will look at the examples of some amazing individuals, showing how their career choices (good & blunderful) made all the difference.  Then, we'll attack your individual needs, and lay out some solid some solid strategies.  No slides – no PowerPoint – bring notebook.
To learn more about the Princeton Public Library visit:  https://www.psgofmercercounty.org/
Bart Jackson bio:
Bart Jackson serves as CEO of Prometheus Publishing & BartsBooks Ultimate Business Guides, and hosts The Art of the CEO radio show. He is the founder of Biz4NJ online business journal, The Accomplished Professionals Breakfast in Manhattan, and the International Prometheus Awards.  His books include CEO of Yourself, The Art of the CEO, Behind Every Successful Woman Is Herself, and So That's How they Do it – Tactics of Business Masters.  Bart spent the previous decades as a globe-trotting journalist, carting his pen and curiosity through over 80 countries, drumming up about 150 new writing jobs every year. Bart's most prized writings are the poems penned to his wife Lorraine, which are published on the north wall of his home in Cranbury, NJ.