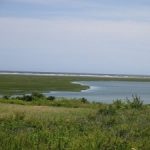 HD Thoreau noted of Eastham Cape Cod, that "the barren aspect of land would hardly be believed if described."  I suppose it depends upon what you are cultivating.  For me, our home in Eastham shores writhes abundantly with life.  Whether it is the view from out of my window on Cape Cod Bay, or walking the hard sand flats at low tide, there stands no more fertile plain for raising up one's most profound and deepest thoughts.
Or wading heavily amidst the thunderous rhythms of Nauset Beach's ocean waves as they crash and seethe along the slender sandy strand hemmed by towering dunes and open sea.  Surely, there lies no richer field for planting soul into perspective & the mind into more astute reflection.
'Twas to this most blessed retreat I came this week after shoulder-replacement surgery.  The quelling of the mind and the release from the daily frenzies of home and office life proffered the utmost recuperation.  With my good wife Lorraine, and later joined by my COO & laughing adventuress Carol Ezzo, we journeyed into the realm of simple re-creations such as finding clams on the flats, half-shell oysters amongst the shoreside restaurants, and bright-plumed birds in remote marshes.  And yes, and in the eve, we even made some amazing strides in our latest book, along with lining up new guests for our The Art of the CEO radio show.  The brain works best when freed from the chaff of distraction – and fueled by good friends and lobster in drawn butter.
Wishing you all a grand summer,
– Bart Jackson