Listen in:  Bad Business Attitudes: Nix 'Em & Fix 'Em – Host Bart Jackson takes a jovial and instructive look at those defeating mindsets that hold back business folks at all levels.
What baggage are you carrying to work every day?  Are you toting around a group of pre-set mindsets that are anchored to your coattails and preventing your meteoric rise?  Bart  takes a jovial look at some of those insidious attitudes that creep into our minds and munch away at our full potential. Are you afflicted with client contempt or competition envy?  http://www.theartoftheceo
Listen in:  Best ROI – U.N's New Sustainability Fund
What about investments for You – the socially conscious investor who wants your money to bring both profit for you and benefit to the world at large? The United Nations has just launched its Sustainable Development Goals Fund comprised of companies that are aligned with the U.N's 17 sustainable goals necessary for the survival of the planet and its peoples. Host Bart Jackson invites an explanation of this noble fund from its architect and manager, Alfred Berkeley.  http://www.theartoftheceo
Listen in: Cornering the Curvy Clothes Market – Newsflash: women have curves. You may know that, but most clothes designers do not. Except, of course, Ms. Jennifer James, mompreneur and founder of Active Ego clothes, proffering plus-size ladies the active, leisure, and sports fan wear that's as sensibly priced as it is tailored. Jennifer and I discuss the new trends and the clever strategies required to make it in the cut-throat competitive realm of fashion and clothing manufacture.  http://www.theartoftheceo
Listen in: The Energized Employee – New Job, New Attitude – Top recruiter Bill Humbert reveals how you can discover the best possible career, and seize it with all the perks.
Are you getting the absolute ultimate out of your current job? Are you set to forge the next rung in your career?  Or are you a jellyfish swept along with the tides of your company?  Host Bart Jackson invites on board The Recruiter Guy, Bill Humbert, author of Employee 5.0 – Secrets of a Successful Job Search in the New World Order.     http://www.theartoftheceo.com
Feb. 23rd – Summer Fun for the Young – And Young at Heart by Bart Jackson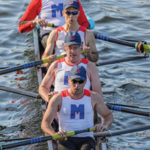 Those who have gazed wistfully at the slender hull of a rowing shell slicing across the lake, and admired that precise human unison that strokes it smoothly along: your time has come. The Princeton National Rowing Association is offering you a sliding seat at the shell — eight or four person — and the opportunity to be one of those athletes stroking across Mercer Lake in concert with your comrades. And it is not just for the youngsters any more.   Read the full article: http://princetoninfo.com/index.php/component/us1more/?Itemid=6&key=2-21-18pnrahttp://princetoninfo.com/index.php/component/us1more/?Itemid=6&key=2-21-18pnra
Feb. 22nd, Bart effusively greets pal Sally Glick, President of Association for Corporate Growth – NJ at ACG's real estate breakfast at the Pleasantville Chateau.   Sally possesses that rare ability to casually market everyone she meets to the benefit of all. An amazing lady.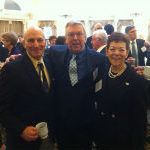 Jan 31st, 2018 Princeton Chamber Changing of The Guard
Princeton Chamber Director Brian Juleskusky share jokes at the chamber's changing of the guard gala last eve. Wednesday at the Mercer Oaks Golf Club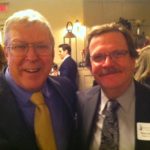 Restorer of Hope Rewarded – CEOReport
Wed. Jan 24. President & CEO of Maxons Restorations, Inc. Damon Gersh stepped to the podium to receive The Art of the CEO's Community Contributor Award.  In presenting the award, host Bart Jackson noted, "We were looking to praise that firm which labors continually to serve and improve the community around it, and the people at Maxons Restorations have embraced that giving spirit, helping bring back hope to everyone from the victims of hurricane Sandy, to the congregation of historic Trinity Church after the 9/11 attacks."  As part of the award, Damon Gersh is invited to appear on The Art of the CEO radio show as featured guest.  In accepting, Mr. Gersh said, "It is a great honor to be singled out and rewarded not only for the work we perform, but the passion our entire team puts behind it."
The Art of the CEO's Community Contributor Award was presented as a finale to the CEO Report's Corporate Culture Awards celebration in which 24 companies from the NY – NJ – CT region were honored exceptionally engaging their entire staff and "making it a pace where A players love to work."  The event was held, amidst great fun and frivolity at Times Square's newest entertainment theme park, the NFL Experience.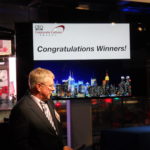 Princeton Independent Consultants
Being a CEO of a major corporation is less of a learning curve, and more akin to stepping off a ledge and being expected to fly.  On Monday, January 8, I talked to the Princeton Independent Consultants group breakfast at Princeton's Nassau Club about just what's involved in taking the helm of a large company as chief executive officer. Citing many of today's top CEOs, I detailed the immense challenges of motivating and managing thousands of employees, plunging vast revenue into unknown markets, innovating products to sit overseas clients, and the constant search for investment.
So does CEO stand for Challenger of Existing Orthodoxies – or Capitalist Exquisitely Overpaid?  Your call.
World-Class C-suite Training Comes to Town
Tuesday, December 12th the top regional CEOs and business leaders are gathering for a kickoff breakfast for Leadership USA's New York chapter, at White & Williams law offices at 7 Times Square.  Hosted by The Art of the CEO host Bart Jackson and other Leadership USA  leaders, and attendees will include such show guests as Al Berkely, Howard Howe, Al Sagarese, Mike Mardy, Greg Williams, and others.  To join this party of notables, visit LeadershipUSA.biz, Regions, New York City.